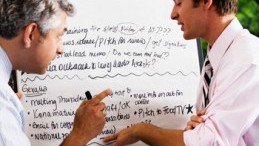 Crystal Jonas
Extract from ''The People Skills Lady, communication skils''

Just What Must the Tech Companies Do Now Since the Demand for Employees Exceeds Supply to Survive in "The New Normal?
Tech companies be aware: Stats prove there are too few qualified technical professionals for the positions open now, and those opening over the next several years; the "New Normal" era shows companies must have good communication and people skills.
According to the Bureau of Labor Statistics, this trend will continue at least through 2018. Depending on how specialized the technical skills are, the demand for technical professionals is projected to grow between 31 and a staggering 83 percent.
Supply of technical professionals cannot keep up with demand.
Newsweek recently acknowledged this shortfall in its article on "The Future of Work: Employment" noting the scarcity of top-tier tech talent and the fact that so-called "soft skills" are an essential part of the "core job description" along with specialized skills. These skills are greatly needed to thrive in "The New Normal".
Soft skills, also known as People skills, or communication skills allow technical professionals to productively work in teams, communicate clearly with supervisors and subordinates, articulate critical information to end-user clients, and develop as emergent leaders to take the companies into the next decade and beyond.
In short, the dynamic combination of tech skills and people skills are mission essential to the viability, productivity and profitability of any technical company wishing to thrive in "the new normal."
Bottom line: tech companies must compete for top tech talent to ensure continual growth, and at the same time, they must cultivate the communication skills of these "high potentials" to ensure profitable succession planning. And leaders need to have strong communication skills, for companies to be as successful as they could be.
Good news: Research proves that just as tech skills can be learned, so can communication skills.
Here are three actions for tech companies looking to be competitive in the new economy and thrive in the new normal:
Identify "high potentials" in your company.
Design and deliver programs to foster professional growth of your employees to ensure full engagement, retention and loyalty.
Cultivate the leadership qualities in high potentials with team building, leadership training, and communication skills coaching. This guards against "top performer flight," encourages full investment of the workforce, and gives your company a clear succession plan for years to come.